Epic Games | "Digital Fashion is the Fast Fashion of the Future".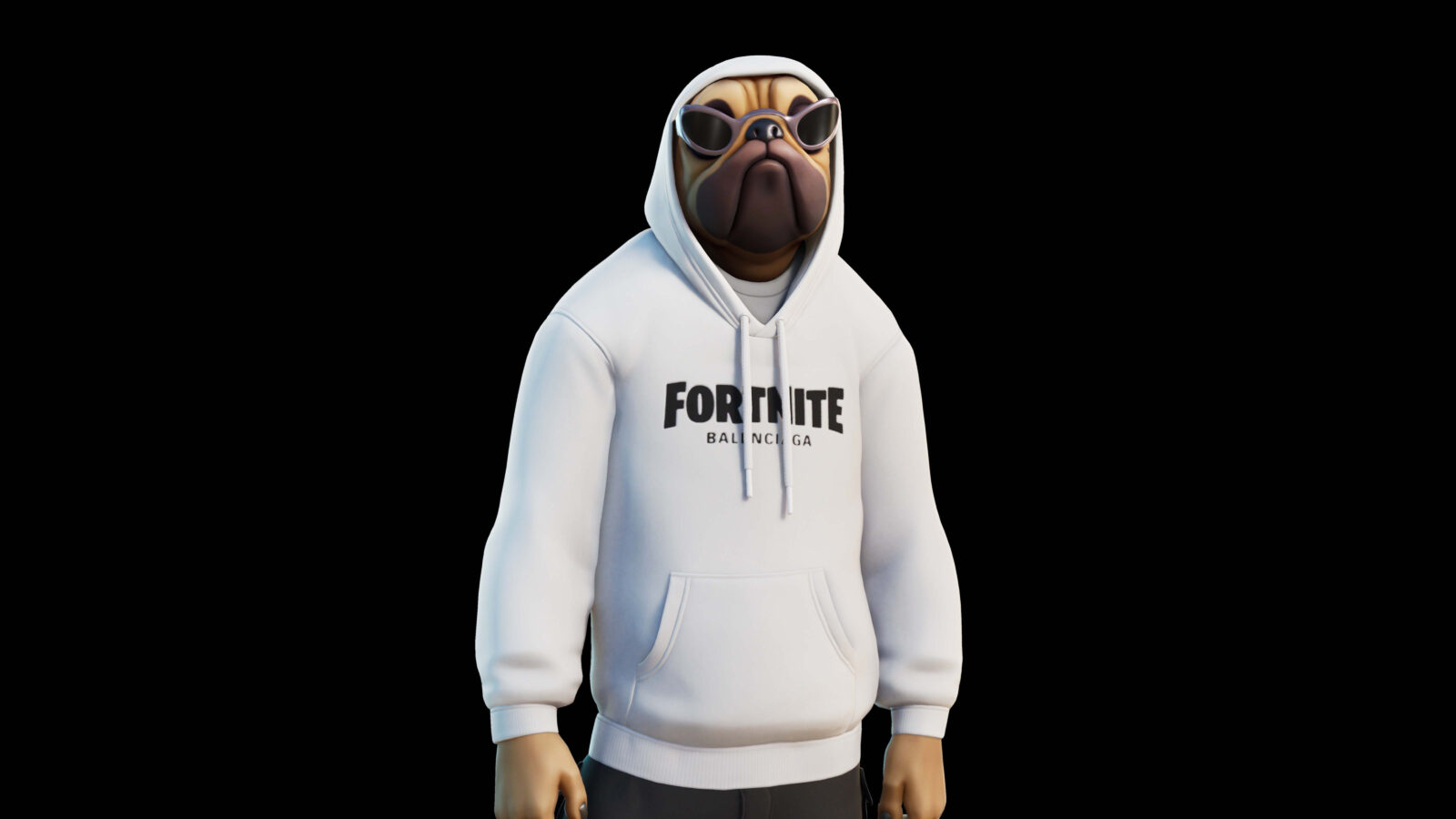 Sallyann Houghton follows the collaboration of gaming platforms with the fashion industry live and from the front row. As the contact person for entertainment, media and fashion at Epic Games, she experienced how the topic became mega-hype during the pandemic. With Fortnite, Epic Games set new standards. It is above all the technical know-how that Epic Games holds as a digital asset and from which many industries can benefit.
Interview: Stephan Huber. Text: Isabel Faiss. Photos: Epic Games
Let's start with a kick-start: How would you explain Epic Games in a few sentences?
The keyword Game is in the company name, but there are actually two sides to Epic. One is about games, the other is not - and all the lines are blurring right now. Unreal Engine is our softwear that enables everything we do at Epic. Fortnite has raised our profile tremendously in and outside of the traditional gaming community. Our technologies are the foundation for many industries we now work with. We invest heavily in Unreal tools and new content to support developers in architecture, media, entertainment, automotive, marketing and simulation. We want to showcase fantastic examples of how developers in these industries can use real-time technology and help them understand how our gaming technology can be used in virtual ecosystems and where best to start.
The pandemic forced the fashion industry to take its digital offering to a new level of technology and market maturity. What has changed as a result?
The industry is embracing new technologies like never before. More upheaval has happened in the last 24 months than in the last 100 years. It's like a gigantic awakening. In my opinion, fashion is now increasingly drawn to virtual spaces because the appropriate offerings are finally there, at the appropriate aesthetic level.
Everywhere you look, fashion is discovering the gaming industry. But isn't it also the other way around? Who benefits more from whom?
Fashion is just the expression of one's own identity and creativity. Gamers have always used this for themselves, even without the influence of the fashion industry. For many years, it has been extremely en vogue to create your own characters and appearances. It is a very powerful tool for gamers to create their own identity and play it out in their community. The fashion industry is opening up a wider field of possibilities for all of us here. The time is ripe for gaming and fashion to finally come together because gaming platforms have become much broader and appeal to a huge number of people. Gamers today are no longer teenagers playing games in their bedrooms. Everyone is a gamer. The average age is 33 to 38 and there are billions of them out there.
I recently saw a denim jacket with two names on it: Fortnite and Balenciaga. Fortnite was clearly printed more prominently. A symbol of the current balance of power?
Gaming was traditionally unknown territory for fashion. No one recognised the strategic benefits. That has changed in the meantime. Today, gaming is more than just playing games - it is about the shared experience with friends. The fashion industry is now well aware of the importance of virtual platforms and they, in turn, have become much more mature. The deep understanding of data will enable fashion to know much more about their product - before they have even produced it.
In recent years, fashion has found itself in a crisis of meaning. It was all about numbers and efficiency - no longer about fun. Can the liaison with the gaming industry bring back the fun?
Let's face it: most of us hate shopping. We love to find and grab things. Shopping is just the annoying way to get to the destination - and those are the treasures you want in the end. This is where I think retailers lose the most customers. If you remove all the obstacles like crowds, travel, cold and unwillingness, and offer shopping as an experience in an environment that excites everyone and where people are completely free to try on different outfits and be creative, then the fun comes back. In real life, we act in a much more controlled way. We decide strategically what to buy. In virtual worlds and especially in the metaverse, we have limitless possibilities. At any time, you can completely change your style and freely transform every element of your personality. Digital fashion is the fast fashion of the future.

In the virtual world, physical borders no longer exist - keyword diversity. Can we finally break away from clichés here?
The metaverse enables unconditional self-expression. One can be anything or anyone at any time. It allows us to push physical categories aside. The current discussion is mainly about how the fashion industry can use digital possibilities today. But the exciting thing about the situation is that in the metaverse we can revolutionise the system of fashion, for example, to create labels that will never exist in the real world. You can act in a completely new way - you can discard regularities about materials, shapes and cuts.
Metaverse is a gamechanger for fashion. But virtual fashion is also fashion - just on a different level. Because at the end of the day, one fact remains: customers have to love your product. How do you inspire Gen Z in the Metaverse?
Basically, Gen Z has much fewer concerns about the switch to the digital world than we do. For them, this duality of real and virtual has always existed. It is the technology that has to keep up with this mindset and catch up in acceptance, because for these generations the metaverse is a no-brainer. When you observe how naturally they embrace the digital world, it's clear that these are the future drivers of the Metaverse. To appeal to them, it makes sense to focus on specific communities, products or experiences that they want to identify with. It's about translating our deepest human needs into the virtual space. For all of us, the Metaverse is still a long journey through this virtual parallel world that we can enter and leave at will at any time. But just as there are immersive digital worlds, there will increasingly be areas where the Metaverse and the real world merge seamlessly, spaces where you have all the benefits of the Metaverse, its creativity, connection, access to information and people. At the moment, the internet is still like an arrangement of different information stands that do not communicate with each other. The journey into the Metaverse will bring many benefits to the real world, creating a balance and interoperability that we simply don't have on our screens today. In short, the metaverse, for me, is about breaking down those barriers. The next generation internet will be a platform with robust economic structures, many entertainment options and true interoperability.

It sounds as if the metaverse would also be a good solution to bundle strengths and do things better - keyword sharing economy. How much power lies in the open source philosophy and is that actually realistic in the Metaverse?
Fortnite is the best example of this. For years, we have worked with partners to remove barriers that previously prevented cross-platform play and cross-progression. It was a milestone in our industry that Fortnite players, regardless of console or platform, can meet together in this game. We need to keep working on this steadily to remove the remaining hurdles as well. In a perfect world, the Metaverse offers limitless experiences and interactions. And that is exactly why no single company should dominate the Metaverse. It must be built by a gigantically large, diverse cross-section of people. Our solution to this is the creative mode in Fortnite, which is so important because it is an autonomous space designed by the player. We provide players and developers with tools specifically for this purpose, so that they can create their own experiences. The goal is to develop and publish such tools so that the community can develop, share and experience tailor-made ideas. These are the kinds of open and collaborative conditions that allow the Metaverse to evolve organically.

Open and collaborative could be a challenge for the fashion industry ...
At the moment, the industry is celebrating the power of collaborations. In the last 24 months, we have seen more of them than ever before. Completely new constellations are also emerging. Two years ago, none of us would have thought that possible. Thanks to Fortnite, DC and Marvel characters met in a game for the first time. These two IPs (Intellectual Properties) had never been seen together before. If we continue to open up these interactive spaces, everyone can come together - like on a gigantic mall. Because we notice that the individual IPs feel more and more comfortable with this step, and suddenly there is an awareness of how much power there is in working together across companies and also, as a brand, opening up a new perspective to your own community through this. Digital platforms are not a place to sell products, but to share a brand with others through a common experience. The goal of the Balenciaga project, for example, was to share a certain attitude, personality and aesthetics as a symbol of the brand. In the virtual space, the brand experience is more important than the product. A white T-shirt is of no use in the metaverse - after all, you can't get cold.